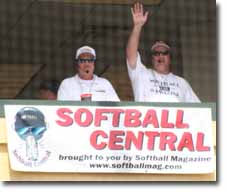 Softball Central is your Internet connection
to LIVE game coverage...
Coming to you LIVE,
right in your browser window!
►On the day of any of the events listed, our broadcast will automatically start in the Windows Media Player below.
You may also click on the event and you will be taken to our broadcasting link.
You may also click on any of our "Broadcast Archives" at any time, day or night, to listen in on the action.
Our audio coverage will be streamed to your browser through
Windows Media Player. If you don't currently have Windows Media Player,
you can download it for FREE from Microsoft by clicking here.